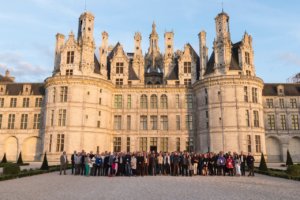 23 to 25 April
Loire Millésime 2018 is a press trip organized by Interloire to promote the Loire Valley vineyard. This year, 60 foreign journalists were welcomed in Blois for 3 days, and the AOP Touraine has obviously taken part in this event to highlight its Touraine wines. As part of this operation, the AOP notably organized a gala dinner on April 23rd at the Chambord Castle, allowing journalists to taste several wines from the appellation while enjoying the majestic setting of Chambord.
The AOP Touraine also organized 3 vineyard visits: a tour of the Touraine Oisly terroir, followed by a Sauvignon tasting; a tour of the Touraine Chenonceaux vineyard, followed by a Touraine Chenonceaux red tasting ; and a 2CV rally between Blois and Amboise throughout the vineyards of Touraine Mesland and Touraine Amboise, followed by a tasting of Chenin which brought together the Touraine Amboise, Touraine Azay-le-Rideau and Touraine Mesland denominations.
A beautiful operation to promote the wines of the AOP Touraine!
Retour aux news